Parking will NOT be available at Maxwelton Braes. Attendees MUST arrive by shuttle.
NEW THIS YEAR: We will have a shuttle pick-up and drop-off in all of the following municipalities: Egg Harbor, Fish Creek, Ephraim, Sister Bay and as always, Baileys Harbor.
The Baileys Harbor Recreation Park is just a short 3-minute bus ride to the festival grounds at Maxwelton Braes and will allow you to avoid driving into downtown Baileys Harbor to find a place to park.
Our FREE shuttles will run continuously from the Rec Park beginning at 11:20 am and throughout the day, with return trips as the festival winds down.
Shuttles will also run continuously from downtown Baileys Harbor at the Cornerstone Pub, and from lodging sponsor hotels. The first shuttles from Cornerstone Pub will begin at 11:20 am; from Baileys Harbor Yacht Club at 11:20 am; from Baileys Grove and Baileys Bluff Campground at 11:30 am; and from Ridges Inn & Suites at 11:35 am.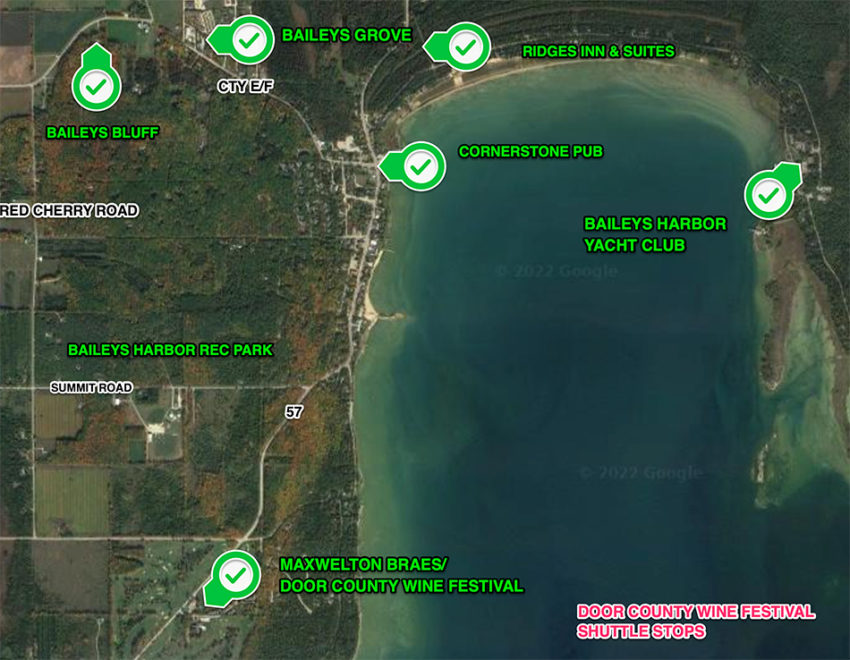 SHUTTLES
Our FREE shuttles will stop at the following locations:
Baileys Grove Campground
Baileys Harbor Yacht Club
Ridges Inn & Suites
Cornerstone Pub
Baileys Harbor Recreation Park (2623 Summit Road)
IDS REQUIRED!
Remember that ALL attendees should arrive ready to show your ID. Everyone will be asked for ID.